About URSC

The Indian Space Programme as enunciated by its founding father Dr. Vikram Sarabhai is application driven. "Benefit to common man and society is the fundamental tenet around which the Indian Space Programme revolves today".During the 70's and the 80's U R Rao Satellite Centre (URSC), the lead centre of ISRO was engaged in mastering the basic technologies and skills required for the specialized task of satellite building. Since the early 90's a host of contemporary and advanced communication, meteorological, remote sensing, navigation and space science were built and launched. ...
Read More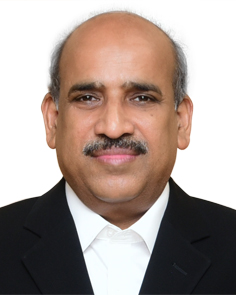 Shri M Sankaran
Director
Shri M Sankaran is a Distinguished Scientist of Indian Space Research Organisation (ISRO).

He took over as Director of U R Rao Satellite Centre (URSC), the lead Centre in the country for design, development and realisation of all satellites of ISRO, on June 01, 2021. He is currently leading satellite fraternity to realise various types of satellites to meet the national requirements in the areas like communication, navigation, remote sensing, meteorology and inter-planetary exploration.

Read More
PROCUREMENT LIVE REGISTER

Indian Space Research Organisation (ISRO), Government of India invites Expression of Interest from Indian industry and business houses to offer suitable product(s) as import substitute for the items declared in the "ISRO Procurement Live Register". Click here to Express Interest.
Last updated on: 05-Dec-2023